Colorado Politics
Jun 17, 2020 Updated Jun 18, 2020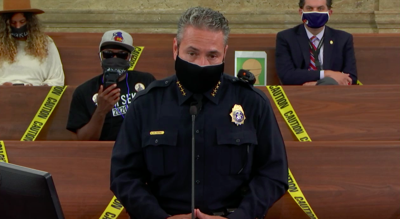 Chief Paul Pazen of the Denver Police Department addresses members of the Denver City Council's safety committee in the Denver City and County Building on June 17, 2020.
Courtesy of Denver 8 TV
For the first time since violent clashes broke out between police and protesters in Denver following the death of George Floyd, the city's public safety director and police chief faced Council members and the public Wednesday morning during a two-hour safety committee hearing held in council chambers.
Councilman Paul Kashmann, who chairs the committee and represents District 6 in south Denver, asked safety leadership on June 1 to come before the group in the coming weeks to address its use-of-force tactics. A week later, the Denver Police Department announced it had banned all chokeholds, will require body cameras for SWAT officers during tactical operations and would mandate a use-of-force report be filed when an officer points a firearm at someone.
Kashmann also called for the Office of the Independent Monitor to investigate the police department's response to protesters, which is now underway.
"While I call on Denver Police to stand on higher ground and maintain focus when the pressure builds, I call on myself and my colleagues to do the same," Kashmann said, addressing a room full of people packed as tightly as social distancing guidelines would allow.
"We talk often about once-in-a-lifetime occasions or opportunities, but this time is different. This may be a once-in-the-history-of-our-country moment when we sit in the midst of a pandemic that limits our distractions and narrows our focus," he said. "I suggest we make the most of this chance to take a giant step toward creating a community in which justice for all is a reality and not just a promise."
'Criminal justice transformation'
Murphy Robinson, who was appointed executive director by Mayor Michael Hancock in May, acknowledged the recent "remarkable outcry" for systemic change and told those who have taken to the streets, written emails and letters and participated in town halls: "I hear you. I see you."
Under his leadership, Robinson pledged that the city's public safety department — which includes the police, fire and sheriff departments — would rise above its "storied history" of violence and unaccountability and become a national example of change.
"I dedicate to the citizens of Denver, the mayor, the city council and all the people that serve in the Department of Public Safety that we will be a leader in the systemic and strategic transformation in the criminal justice system," he promised. "We owe it to our children and their children to make sure that the experiences that they have with race relations, discrimination and injustice is vastly different from the experiences of our generation and ancestors before us."
That can only happen by first listening to the community, he said.
In his presentation, Robinson highlighted the handful of public listening opportunities he's hosted and participated in since protests broke out, and some common themes surface: Black Lives Matter; defunding the police department; police needing racial and social justice training; that emotional intelligence and character must be a core part of recruitment; that more accountability is needed to right wrongs within safety departments; and that community trust is broken and must be rebuilt.
Robinson said in all the conversations he's had with people within the safety department, spanning sheriff deputies, police officers and firefighters, "everyone acknowledges it's time" and wants "to be part of the change."
Robinson said he will host a "demands" meeting in the coming weeks to discuss policy changes the community has been calling for. He is also creating a stakeholder group to "implement a strategic plan for criminal justice transformation," which will outline benchmarks, timelines and the direction the department is heading.
Robinson said he is also launching a new division in his office, the Criminal Justice Transformation and Policy Arm, which will be responsible for drafting and implementing new policies. A formal announcement is forthcoming, he said.
Policing policies
Denver Police Chief Paul Pazen provided council members with a high-level overview of the police department's training requirements, use-of-force and crowd management policies, and efforts to dispatch fewer cops and more mental health experts through its co-responder and STAR programs, which are both funded through grants from the state and Caring for Denver, which is backed by taxpayer dollars.
Later this month, Pazen said DPD will be rolling out a new caseworker program to help curb recidivism among people experiencing homelessness, mental health challenges or substance abuse. Similarly to the other mental health programs, the "caseworker hub" program will not be funded through the police budget but instead by the state and Caring For Denver.
The police chief also assured council members that safety officials are in full support of the independent investigation. "We in no way, shape or form are justifying inappropriate actions by our officers, and we will fully hold our team accountable for those actions," he pledged.
Pazen was booed by members of the public when he finished presenting.
Kashmann then provided 20 minutes for public comment, which was filled with calls to defund the police department. Several others called for the outright abolishment of the police, including Jesse Parris, a black man who regularly attends city council meetings.
"I've been at many of these protests. There was pepper spray shot at me. There was tear gas shot at me," he said. "So, I know firsthand what this use of force is looking like, and you guys are violating everything that you said that you are going to do.
"It's complete hypocrisy," he said.
Pazen maintained in his presentation, and in an earlier interview with Colorado Politics, that police were ordered to break up crowds with tear gas and pepper balls only after provoked with items such as bricks and water bottles, as is law under Section 18, Article 9 of the Colorado Revised Statutes:
"Riot means a public disturbance involving an assemblage of three or more persons which by tumultuous and violent conduct creates grave danger of damage or injury to property or persons or substantially obstructs the performance of any governmental function."
Denver police can fire chemical munitions, along with other less-lethal weapons, to gain compliance when violence or criminal behavior occurs, if there is ongoing destruction or there are attempts to prevent officers' control.
Still, Robinson said the Department of Public Safety and the Office of the Independent Monitor are investigating 530 complaints of excessive force during protests. Some are more serious than others, he said, and any disagreements that arise between the two entities around disciplinary action will be left up to Robinson to decide.
Council fires back
When it came council members' time to do the grilling — about an hour into the meeting — they didn't hold back. Many of their questions and comments were made knowing they'd be unanswered due to time constraints, but will be followed up with after the meeting, safety officials said.
Councilwoman Stacie Gilmore, who represents District 11 and the Montbello neighborhood, fired off more than half a dozen questions, many of which revolved around the rank and experience of officers deployed during protests.
"Since I've been on this dais for five years, it's next to impossible to fire a police officer," she said. "We have seen, weekly, mayors and chiefs and directors of safety fire officers for egregious offenses, and I want to know why we are not doing that in Denver."
Councilwoman At Large Robin Kniech took issue with the fact that mental health support is not funded by the safety department, which received $588 million this year, or nearly 40%, of the city's $1.5 billion budget.
"It's not reassuring that we aren't funding them from our own budget," she said, before asking Pazen if he is open to gathering "serious" community input on the funding structure and reevaluating that structure if needed. Pazen agreed.
She also had Pazen agree to review the media's aerial footage to better understand what happened on the ground.
Council members Candi CdeBaca of District 9 and Chris Hinds of District 10 raised concerns about the integrity of the investigations within the office of the independent monitor and asked for assurance from Robinson, who gave it, that the investigation would be "truly" independent.
"I'm concerned about the lack of communication that happened with Council. There were a lot of things — most things — we found out about from Twitter," said Councilwoman Amanda Sawyer, who represents District 5. "Quite frankly, that is unacceptable."
Sawyer also asked to be handed the receipts from police response to protests.
"We are in a financial crisis, and we have in a lot of ways made it worse," she said.
Councilwoman Amanda Sandoval, who represents District 1, said it was "really disturbing" to see what unfolded in the first several nights of protests in Denver.
"How do we build trust with our community, knowing what we've seen and knowing what you've seen?" she asked Robinson and Pazen. "There has to be something in the middle, and there has to be some type of process in grieving."
'No way to avoid this'
Kashmann said that this safety committee discussion is the first of more to come in the next few weeks and months.
On July 15, Denver District Attorney Beth McCann is scheduled to meet with the safety committee to answer questions, in part, about the decision-making process to prosecute peace officers. Forthcoming public conversations with the citizen oversight board and the independent monitor are also in the works.
"There is no way for us to avoid this discussion," Kashmann told community members in the council chambers. "The time is in front of us, OK. It's going to be had.
"You'll make your decision … down the road: Have we stood up and answered the call or not? OK? You'll make that decision. I invite you to do so."