"It's helped me figure out who I am": Denver Dream Center offers second chance with mental health and substance abuse resources
BY MEKIALAYA WHITE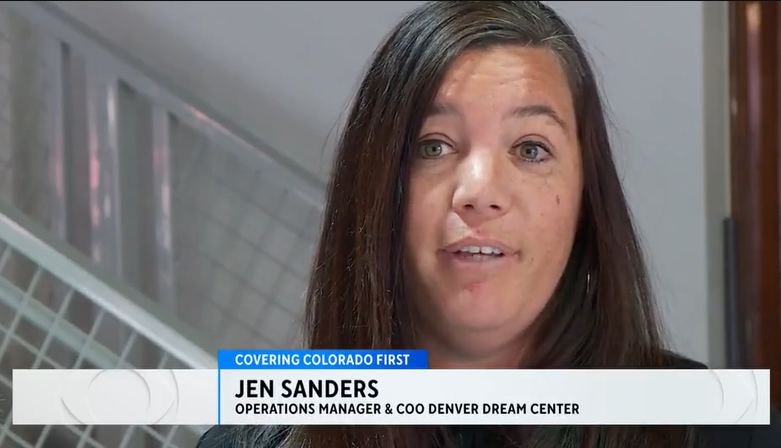 APRIL 20, 2023 / 7:23 PM / CBS COLORADO
On Thursday morning, a group of men walked down Curtis Street in downtown Denver holding plastic bags filled with cookies and bottled water, on the hunt for anyone who may need a pick-me-up.
"What's up? How you doing, man?" asked Lonnie Griego, extending his hand as he approached a man for a handshake. "What's your name?"
Griego is an employee of the Denver Dream Center street team. He's no stranger to the streets, and now walking them with purpose. "I did 18 years in prison," he told CBS News Colorado's Mekialaya White.
He found the Dream Center during his last year of serving time. It's a Colorado nonprofit and education facility that helps people rebuild their lives with mental health care and outreach.
"Mental health is not an easy thing to talk about in their homes. A lot of our students have recently been telling us it's hard to express the way that they're feeling," explained Jen Sanders, operations manager and chief operating officer of Denver Dream Center. "There is a stigma out there that if you need to talk to somebody, you're not okay and that's just not true. People are just needing an extra layer of care."
Even more of those resources are possible as of recent, thanks to Caring for Denver.
"Caring for Denver was created out of a ballot initiative in 2018 to raise sales tax to fund mental health and substance misuse," said Lorez Meinhold, executive director of Caring for Denver Foundation. "We recently hit $100 million dollars into that community, 111 to be exact. 300,000 Denverites have engaged and used services. 71% have reduced substance misuse. 76% have improved mental health."
"We've been able to hire clinicians and peer coaches where they can sit one on one. The students don't feel so not worth it, they feel like they have value. And like, I'm allowed to feel these emotions and think these things because I've experienced something that I just need to talk out," said Sanders.
For Griego, the benefits are immeasurable.
"I met with a therapist and began to realize that it was an underlying problem, that it was abuse and some of the things that happened in my childhood," he said. "That was the reason I veered toward addiction. Now, I'm able to speak about it with understanding knowing that was the problem. The drugs and alcohol were a symptom of the key problem, which was my mental health disorder. The support they wrapped around me it was amazing and it's helped me figure out who I am in society."
Griego is now employed at the center: "and I'm able to walk side-by-side with the same support that I had when I got out. God gave it to me so I can give it back to somebody else."
"I felt like, hopeless, had this anger inside of me," said mentee and student Joseph Flynn, who was also incarcerated. "Lonnie means a lot to me — every time I try to fall, he's there to talk to me. He gives me hope every day."
Griego takes pride in that. "When I was in the past life it was all selfishness, take, take, take. But to give back, it's amazing and it fills my cup every day."
The Denver Dream Center staff says they'll welcome anyone willing with open arms. Contact them here: https://www.denverdreamcenter.org/experience