Lindsey Toomer lindsey.toomer@denvergazette.com
May 18, 2022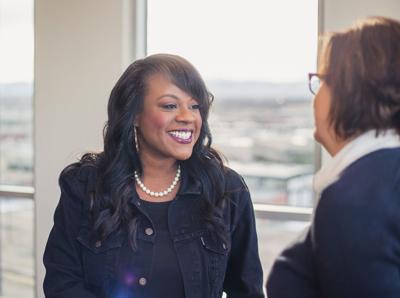 Caring for Denver Board chair Leslie Herod, a lawmaker from Denver, speaks with Lorez Meinhold, executive director of the voter-approved foundation's board of directors.
The Caring for Denver Foundation brought more than $35.5 million to 131 organizations supporting folks struggling with mental health and substance misuse in 2021, its executive director told Denver City Council's Safety, Housing, Education & Homelessness Committee on Wednesday.
The Caring for Denver Foundation, which was founded and funded by a Denver ballot initiative, is a nonprofit aiming to address the city's mental health and substance misuse needs. It's funded through a contract with the city's Department of Public Health and Environment.
Executive Director Lorez Meinhold said the most pressing issues the community wants the foundation to address include supporting youth, alternatives to jail, and community-centered solutions and care provisions, which is where the majority of its funding goes. Another bit of funding goes to the responsive/innovative category, which was used a lot throughout the pandemic to support struggling organizations.
Meinhold said 33% of the organizations funding has gone toward mental health services and treatment for adults and children; 23% for opiod and substance misuse prevention, treatment and recovery programs; 13% for co-responder and alternative response programming for serving mental health and/or substance misuse needs; 12% for housing and case management services; and 9% for suicide prevention programs.
Meinhold also said about $16.2 million of the grants the organization distributed has supported people experiencing homelessness. Nonprofits, charitable organizations and city agencies are all eligible for the foundation's funding.
The program also follows several shared-impact goals, which some grantees reported progress toward following their one-year mark of receiving their grants. The grantees who reported on the goals saw 70% of participants reduce substance misuse, 83% reported improved or maintained mental health, 86% did not return to the justice system and 99% met program criteria for avoiding the justice system through diversion programs.
Meinhold said the foundation works with each grantee to figure out their metrics for measuring success since each one has different goals and expectations, but Councilwoman Amanda Sawyer said she'd like to see a more universal form of reporting for taxpayers to understand.
"I think if you talk to any resident of Denver, they will say: 'We approved this funding, the funding is out there, but we only see homelessness getting worse, we only see mental health issues getting worse,'" Sawyer said.
She added: "I certainly understand that Caring for Denver was not a cure for all of those things, but I do think that taxpayers want to know that they are getting value and results for their money that are measurable and clear."
Meinhold said the organization reports on overall metrics around reduced substance misuse, improved or maintained mental health and reduced entry into the judicial system, which it will continue to report on every year. Councilwoman Robin Kniech had similar sentiments as Sawyer and asked that it become a regular part of the nonprofit's reporting to outline exactly where taxpayer dollars are going.