By Julia Cardi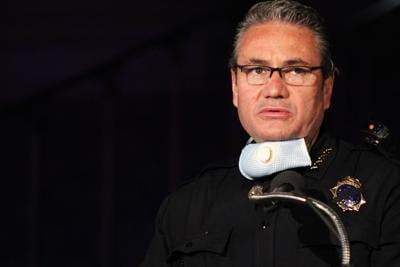 The new year has marked something of a crossroads for Denver's Support Team Assisted Response pilot program, also known as STAR, which has replaced police officer responses with paramedics and mental health clinicians in low-level, nonviolent situations.
City Council approved $3 million for the program last fall in Mayor Michael Hancock's 2021 budget, and a recent progress report showed promising early results: The STAR team responded to 748 calls in its first six months that did not require police or lead to arrests, and based on data collected, the report estimates the program could reduce calls for service by Denver police by about 2.8%.
Police and the community organizations involved with STAR's implementation and operations cheer the program's early success, but recognize it needs to be viewed as one piece in increasing resources — such as mental health care, substance use treatment and housing services — to address the issues that put people in crisis and prompted a 911 call in the first place.
"The magic, from my perspective, is what happens after that call," Denver Police Chief Paul Pazen said.
"We need to also look at long-term outcomes. That way, Paul's not calling every week with a different crisis. We're getting Paul connected to those other city agencies; nonprofits; faith-based groups. … As much as I love STAR, it's a layered response. It's part of the solution, it is not the entire solution."
Vinnie Cervantes, the organizing director of the Denver Alliance for Street Health Response who participated in the STAR program's evaluation, said measuring STAR's influence on reducing people's repeated interactions with law enforcement is probably the most important metric for gauging the program's long-term effectiveness. But he added that definitively measuring that impact presents a challenge, because it's not possible to measure crimes or other incidents that don't happen as a result of STAR's intervention.
DASHR has helped lead the program's evaluation based on data and facilitated conversations about its expansion.
Tracking the number of times responders connect a person to long-term services such as mental health or substance use treatment is a key metric, he said.
"How do we measure a mental health crisis that hasn't happened, or a substance use issue that hasn't happened? You know, the things that the STAR program is actually responding to," Cervantes said. "And in this case it's more, how can we reduce crisis that occurs that people are being repeatedly contacted through the criminal justice system or the STAR program?"
Carleigh Sailon, a clinician with the Mental Health Center of Denver who acts as a responder for STAR, said recognizing that the people responders come in contact with may not be ready in the moment to connect with long-term help is key to building trust with them so they feel comfortable reaching out on their terms.
"My goal in the STAR van is to meet people where they're at. … Somebody may not be ready to make a change that day, and that's O.K.," she said. "It's not my focus to move that person through their change process more quickly. It's to build that trusting foundation and that working relationship that allows them to feel comfortable coming back to me when they are ready to make a change."
She said the practical gesture by STAR responders of carrying supplies for immediate needs a person might have, such as snacks, hand warmers and supplies for sterile drug injections, has often helped open a door to deeper conversations with them about their needs.
"If you can make people feel comfortable, you can not only tell people that you're there to help, but you can show them in some small way. That oftentimes really helps build a rapport," Sailon said.
The pilot stage of the program runs through May this year, and it has received its money from the sales tax-supported Caring for Denver fund. But the contract and budget transitioned from the Denver Police Department to the Department of Public Health and Environment on Jan. 1 after City Council approved the transition as part of Hancock's 2021 budget request, while Denver 911 continues to operate STAR.
"I think it's more of a narrative choice, I think for me, that establishes a public health perspective versus a public safety perspective," Cervantes said of the transition.
The program has a goal with extra funding of expanding to have four vans and six response teams — each made up of a medic and a clinician — to operate seven days a week. For Pazen, his focus remains on the program's outcomes rather than who operates it.
"This is a win-win all the way around, right?" he said. "The person in crisis gets better outcomes. The police department is freed up to address these significant challenges that we have with crime and traffic safety. The community at large benefits because you have the appropriate response on individuals in crisis, and you have freed up this resource of law enforcement to do what they're trained to do."